1. PICK AN OUTFIT
Select outfit than the size and material. Upload your photo: high-quality photo. Provide any comments. Then click ADD TO CART.
If you are buying a canvas don't forget to add a frame you will see it at the bottom of the page.
* Please read the image specifications before uploading you pet image.

2. NOW THE MAGIC HAPPENS
I create a one of kind pet portrait from the photo you have uploaded.
When it is completed I send you a proof for your approval. If you're not 100% happy I will make any necessary changes. You are in the process from start to finish.

3. IT'S TIME TO SHIP
Your pet portrait is securely packed for the journey. You will receive a tracking number so you know exactly when it will be there.
*Please read the FAQ for shipping information.
Custom Dog & Cat Portraits
The Snooty Pups offer a wide variety of styles when it comes to custom pet portraits. Whether you want a canvas or poster your pet portrait will be one of kind.
The magic starts with an image of your furbaby and then it is transformed into a personalized piece of art. They look great in a library or a conversation piece in your living room.
What about your office?
You will be the talk of the office. No one else will have one! Also, makes a perfect gift for your fur baby friends!

The difference between my pet portraits and other quirky pet portraits is that I make your fur baby look like they belong in the portrait. I add filters, photo filter, drop shadows and add change the pupil and highlight the eye to get the most realistic look. The last the thing I want it to look like is your pets head is cut and pasted on the top of a body. It needs to look realistic. You will approve a proof before it goes to print.
Look at competitors and compare the quality side by side and see the difference. I have worked museums and zoo's for over 16 years. I have been a graphic & web instructor. Your pet portrait is in qualified hands. It starts with a great picture from you and ends with me creating you a one of kind piece of art.
I look forward to working with you on your pet portrait.
Accessories
Pug Pillow, Pug Portrait, Pug Throw Pillow
00041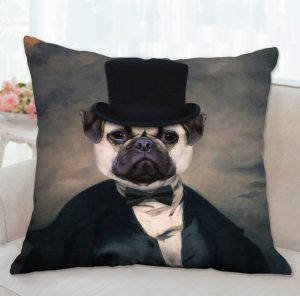 Pug Pillow


A fun, unique and useful way to decorate.
Sure, prints look good hanging on the wall. But when they're on a custom throw pillow, they're impossible to miss. From your favorite photos to customized text or monograms, we'll help you put whatever you'd like on a durable, 100% polyester pillow. They're a great gift idea, perfect party decorations and a can't-miss addition to any room.
Tips and to-dos
• Think about ordering sets of matching pillows that go together – different first initials, all the letters in a word or even just related photos or images
• Only spot or dry clean your pillows – they don't have zippers and are NOT machine washable
Size
14 inches (25) 18 inches (35) 26 inches (45)
Custom Orders
Do you have an idea?
Let's talk!
Get Yours!